What to expect en route
Starting and finishing in the picturesque East Yorkshire town of South Cave, the inaugural South Cave 10k course takes in some beautiful scenery through quiet country roads and provides just enough of a challenge to keep even the seasoned striders on their toes. We start at the beautiful gates of Cave Castle - not many start lines in Yorkshire can boast such a battle-ready backdrop :) through the historic town of South Cave (not a village, locals will remind you: it was granted a town charter by King Edward I in 1291!).
You will then run through the countryside to the pretty village of Ellerker before looping round and returning to South Cave, with a couple of sharp climbs to add to the fun before your run is completed by a lap of the local playing field. As you collect the first-ever South Cave 10K medal, we hope you will have had as much fun as we have had – setting the event up.
All runenrs must register at Race HQ before making their way to the start line.
Thank you
The organisers are grateful to the South Cave Pavilion Committee for allowing the use of their building as the Race HQ. With changing facilities, refreshments and toilets it is an ideal base for registration and for the post-race prize presentations. The help of all those associated with the Pavilion Committee is gratefully acknowledged.
Road Closures
These road closures that have been agreed by East Riding Council, the Police, the Events Safety Advisory Group and the organisers of the South Cave 10k race on 25th July 2021. Our aim is to keep the inconvenience to a minimum, so the times given below will be the maximum that specific roads will be close. We would be grateful if you would make alternative arrangements during these times. Please be assured that the emergency services will have full access to the course on the day.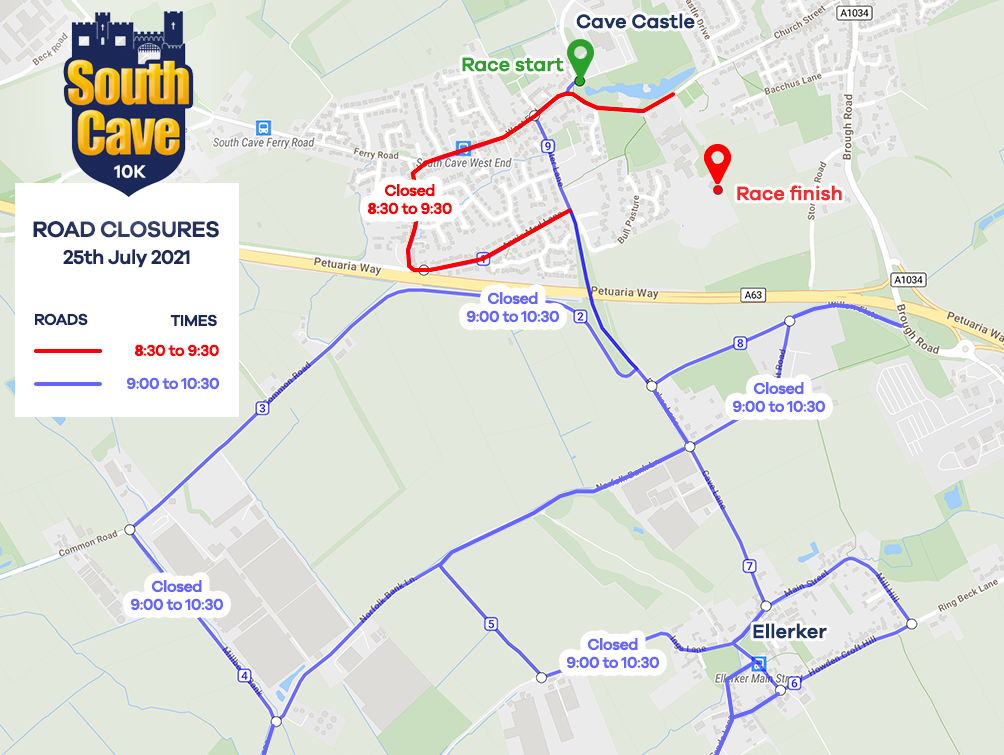 Race times